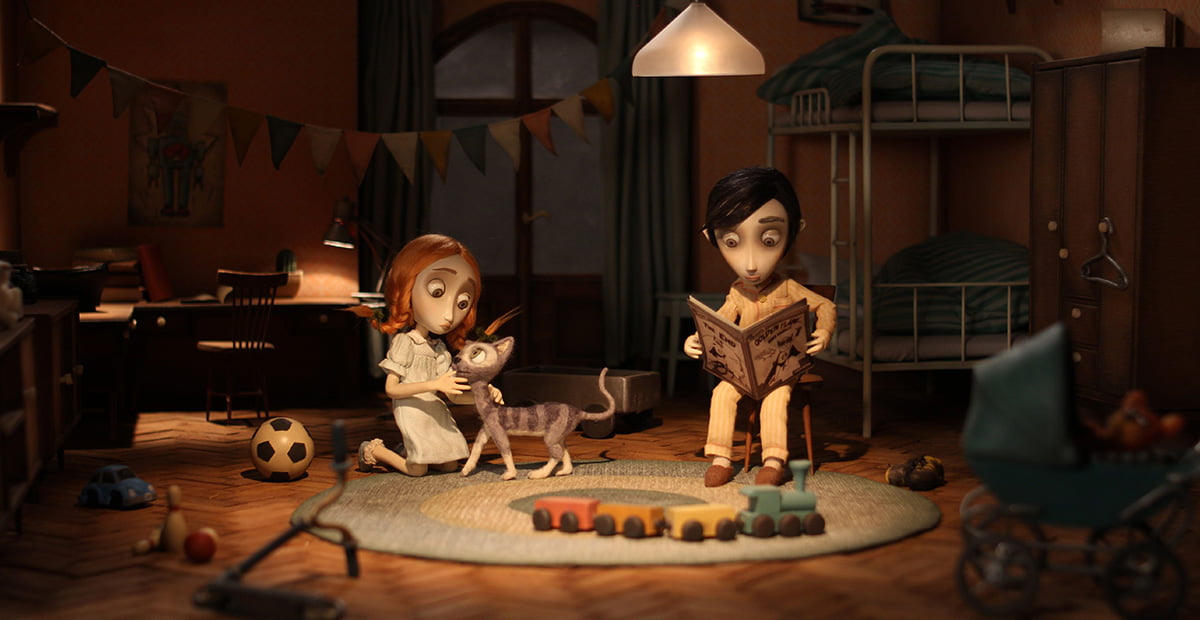 OF UNWANTED THINGS AND PEOPLE 
| IN PRODUCTION
| SYNOPSIS
Three children spend the night at their grandfather's, for the first time since their grandmother died. They can't fall asleep and decide to tell each other some of the stories their grandmother, a great storyteller, used to tell them. The film is based on the children's book by Czech author Arnošt Goldflam and contains a lot of fantasy, humor and imagination. It is a plea for the art of storytelling as an ideal means of accepting the sometimes difficult sides of life.
| TRAILER

| FILM CREDITS
Directors
The first story – working title "The Orphans" – directed by David Súkup (produced in the Czech Republic)
The second story – working title "The Old Apple Cores" – directed by Patrik Pašš (produced in Slovakia)
The third story – working title "Yesterday's Newspaper" – directed by Leon Vidmar (produced in Slovenia)
The Fourth Connecting Story – director Jean-Claude Rozec (filmed in France)
Script by
Marek Král, Petr Krajíček, David Súkup – "The Orphans" (based on a story by Arnošt Goldflam)
Patrik Pašš – "The Old Apple Cores" (based on a story by Arnošt Goldflam)
Kaja Balog, Maja Križnik – "Yesterday's Newspaper" (based on a story by Arnošt Goldflam)
Blandine Jet – connecting story
Based on a story of – Arnošt Goldflam
Art design – Patricia Ortiz Martinez
Music – Lucia Chuťková
Sound – Müro Chaloupka
Editing – Adéla Špaljová
Producer – MAUR film (Martin Vandas, Alena Vandasová, CZ)
Co-producers – Artichoke (Juraj Krasnohorsky, SK) / ZVVIKS (Kolja Saksida, SI) / Vivement Lundi! ( Jean-Francois Le Corre, FR) /  RTV Slovenia / Czech Television / RTV Slovenia
Estimated length – 70 min.
Animation technique – puppet stop-motion
Estimated release – 2025
The film was supported by Creative Europe MEDIA, Eurimages, Czech Film Fund, Slovak Audiovisual Fund, Slovenian Film Centre, Bretagne Cinéma, TVR Tempo. The project also received Eurimages Co-production Development Award at Cartoon Movie 2019.
National broadcasters Czech Television and RTV Slovenia has confirmed the co-production participation.

| DOWNLOADS
Poster
JPG 

Film stills HD
Zip – Jpg (13x)
| GALLERY – Final visuals
| ADDITIONAL INFORMATION
Producer´s explication
In 2015, the Czech company MAUR film secured the book rights of Arnošt Goldflam's successful book of original and unusual fairy tales entitled Of Unwanted Things and People. Czech producer Martin Vandas discovered the book while reading it to his youngest daughter. He was immediately fascinated by the originality, magic, sensitivity, poetry and also the cinematic potential of these modern fairy tales. Goldflam's stories seem to be just begging to be made into films, although the adaptation to film is a challenge.
Gradually, producers from Slovakia (Artichoke), Slovenia (ZVVIKS) and France (Vivement Lundi!) joined MAUR film. This quartet of partners have known each other for several years through the CEE Animation network and had the opportunity to work together on several smaller projects, creating strong personal bonds and a common desire to make this extraordinary and daring film together. Years of development and mutual sharing of know-how allowed us to build a generous and unique co-production setup, based on the principle of parity.