Three animated children's tales by Břetislav Pojar, Bára Dlouhá and František Váša called Le Voyage de Tom Pouce (Tom Thumb's Journey) enter the French distribution.
When Jan Werich's tales from the third part of the Fimfárum trilogy (Le Jardinier qui voulait etre Roi) entered French cinemas in 2012, it seemed a bit unbelievable. Excellent French dubbing, support by the local cinematography fund for children's distribution, creation of a version for the hearing impaired, publication of educational materials and mainly original and patient work with young audiences – all this sounds like a fairy-tale to a Czech producer. However, it is a true story and what more, a story that surprisingly continues.
Three years later, another Fimfarum tale – Tom Thumb by Břetislav Pojar – will enters French cinemas at the end of September, accompanied by another film by Pojar – The Princess Who Never Laughed – followed by a third segment written by Jiří Marek – Fisherman Maršíček – directed by Bára Dlouhá and František Váša.
Thanks to the French distributor, children in France will have an opportunity to see original Czech puppet animation and humour. Also the lifespan of a number of film puppets will extend as they have been renovated, given new homes and will participate in an exhibition touring French performances for children. Their previous homes have recently returned from France and were subsequently exhibited in Havlíčkův Brod and Žďár nad Sázavou.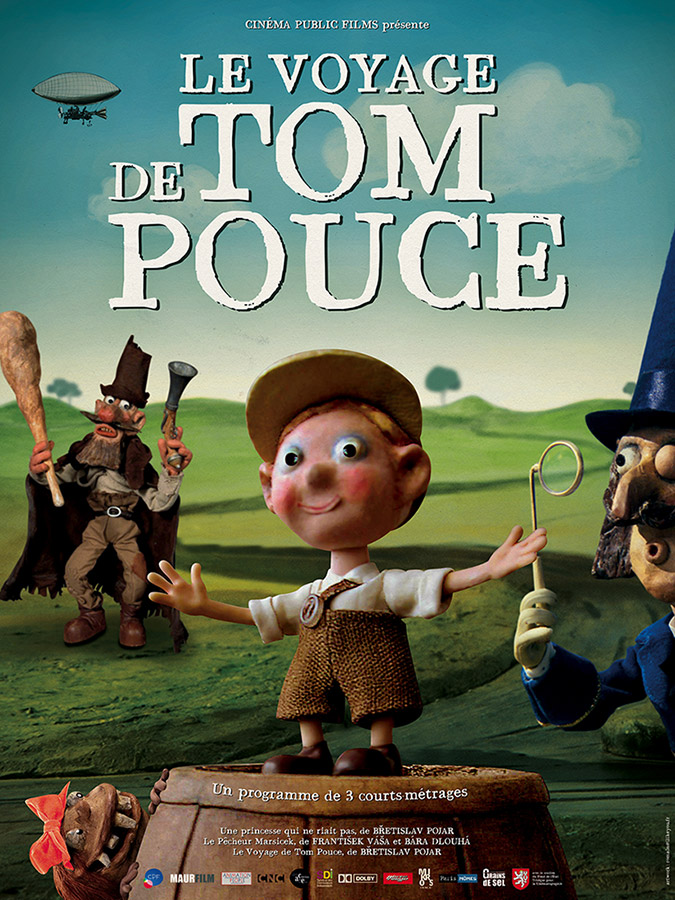 "When Cinema Public Films asked us if we had some other animated tales, we sent them our and our friends' DVDs with no expectations. Their swift response that they would definitely like to expand our cooperation was not the only surprise. The distributor's programme composition was another – apparently, French audiences have no problem with connecting tales from various books. There was also no need to respect the originality of the Czech sound version so the French added more voices (male, female and child roles, of course). Add to that an excellent translation by French poet and translator Bertrand Schmitt, new exhibition boxes, "educational cases" with puppets, a beautiful poster and everything was "cooked" in a few months." says Martin Vandas, MAUR Film producer.
The French distribution presents the film as Le Voyage de Tom Pouce (Tom Thumb's Journey). The total running time is 57 minutes. The film is distributed by the Cinema Public Films company and Czech producers behind the project are MAUR film company (Martin Vandas) and Animation People (Michal Podhradský).
Link with the trailer: http://www.cinema-public-films.com/pages/tom/